So, I ended up seeing The Dark Knight Rises the Saturday after it premiered despite the fact that I didn't like the first two. (Oh, did that hurt your feelings?) It was really cool and had more substance than the other two. It definitely felt more like a traditional Batman movie.
Anyways, let's get to the point of this post…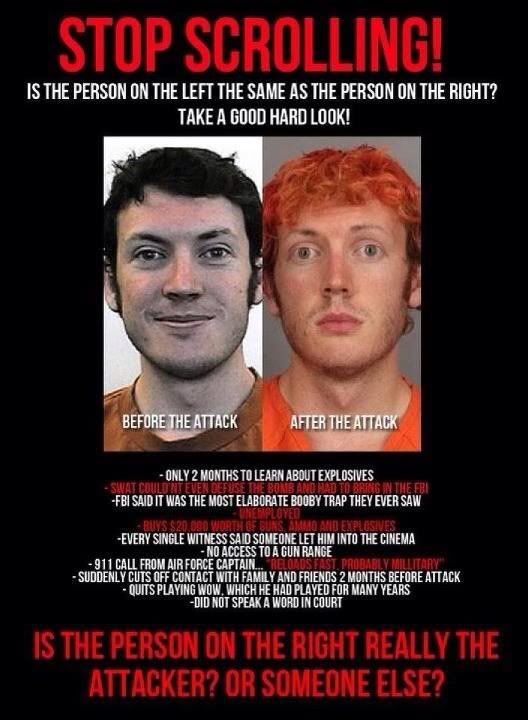 I keep seeing photos like this on Facebook. I like the fact that people are willing to spread word about things that they are suspicious about. It definitely raises a lot of questions and asking questions really does make the difference between a conspiracy theory and history.
The first time I heard about this new concept of this conspiracy theory, it was baseless and nonsensical. I had a hard time following it… At the time, it was just a few days after the shooting and people were already posting stuff on Facebook about how James Holmes was unemployed and couldn't possibly afford all of the guns and ammunition that he had. It seemed to me that most people were looking into this for no reason. Sure, there are reasons to raise an eyebrow, but everything I was reading was completely explainable. He was simply a guy who took out loans or used a credit card to get guns like any other American could. There isn't a reason to think that there was a conspiracy theory behind it. At the time, I probably could have done everything he did… It just didn't make sense. There isn't motivation for the government to do something like this. People can say that the governments wants an easier time passing anti-gun laws, but seriously, how much legislation is going to be passed during the election season?
Anyways, times change and so do people's faces, right? Wait… what? Well, now versions of these comparison photos are popping up online. They sometimes includes a few bullet points, but the most interesting part is fact that the two photos seem to be of two completely different people even though they both are supposedly James Holmes. The one on the left is him during college or after college or something like that; It's just a random photo of him that people are using for him since it was like the first one that the media could get a hold of. The second photo is a photo taken of James during the judicial process… Some things just don't add… You can't just change the size of your nose or ears… Of course, there could have been exposure issues in the first photograph since it was taken years ago, but other than that, there isn't anything that can explain the changes, right? But, allow me to show you a few other things that may change your mind…
The above image is Jim Carrey at different points in time and slightly different angles. The nose looks different in all of these pictures, right? Just as different as James Holmes' nose, it seems.
As for the rest of the bullets, well, there actually is no scientific was to check these. We, as the American public, don't have access to check these things. As such, it would be sooo easy for the government to cover that up, right? If the government was behind this attack, then why would they leave behind the easiest things to cover up?